Why do we enjoy watching a good murder mystery? Is it because we all want to play detective?
Perhaps it's because Google and Facebook have worked out that my viewing history across all platforms (BBC iPlayer/ITV Hub/Netflix etc.) tends to gravitate towards a good murder plot, real or fictional. Maybe their algorithms identify that I spend my downtime either researching murder methods, reading cosy mysteries or watching them on my laptop. If that is the case I may need to delete my browser history or the police may soon knock on my door (I'm a writer! – honest. It's research for my next book – truly, Officer) Who knows? But this morning they presented two original articles to me in my social media that I thought I would share with everyone because they make for an interesting read.
The first 'The Art of the British Cozy Mystery: 16 Cosy Mysteries to enjoy' (23 May 2020) on the site The Simply Luxurious Life talks about the simply luxurious pleasure of binge-watching some of the great British mystery series. The great thing about such articles for me is the other links they include. SLL directs us to Cozy-Mystery.com, which took me down a very pleasurable rabbit hole of suggested recent book releases to add to my wishlist.
The second article in my media feed took me to Crimereads.com and another binge-worthy summary of great tales set in quaint English villages. (Even though this post dates from two months ago, the internet is a strange beast – 24 March 2020). I love their byline though:
Come for the thatched roofs and bicycles… stay for the murder.
But our need to binge on British Murder Mysteries doesn't need to be confined to passively watching the TV. Some Murder Mystery event companies (23 April 2020) have taken their detective evenings online! This article from Business-live.co.uk shows that this is an area that is seeing a boom in demand. 'The Great British Bump Off' by Red Herring Games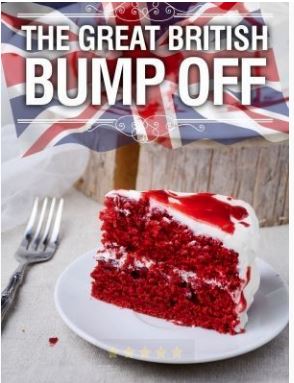 But I have to say that the highlight of my lockdown binge-watching so far has been the latest offering from Acorn TV – Queens of Mystery. It has an incredible cast of strong female characters. It is quirky and hits all the tropes with humour. It is a joy to watch. I loved all three episodes and can't wait for the next season. But the best bit for me is the behind-the-scenes bonus show. Much of the filming took place in Kent, either in the beautiful Cranbrook village or in the coastal town of Folkestone and the surrounding areas. This is my backyard. It is where I get my inspiration for my Isle of Wesberrey series. I felt so at home with the scenery and the characters.
Do we all want to play detective? I don't know. What I know is that the attraction is strong. Great mysteries can be addictive, and you will want to return to them again and again. So, take some time during lockdown to indulge in the best of British Murder Mysteries, whatever your reasons and in whatever format you choose. There is plenty of choice for everyone.